14 November, 2020
Traditionally we give gifts in beautiful wrapping paper all tied up with an extravagant ribbon tied in a knot a sailor would be proud of. This is hard work and will often lead to many trips to the supermarket to buy extra tape and blisters on fingers after hundreds of failed attempts at getting the […]
2 November, 2020
Are you looking for fun ways to keep your little ones busy as the nights draw in and the weather gets bleaker? Why not get creative and draw mighty sharks?
21 October, 2020
To help you get the most from your next rock pooling adventure, we've put together a hands-on guide to exploring rock pools. Click here for the guide.
20 October, 2020
People should respect rather than fear piranhas. Click here for our guide to reveal some truths about South America's most misunderstood fish.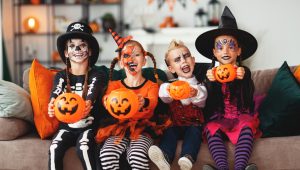 9 October, 2020
Halloween may look a little different this year, but there's nothing stopping you breaking out the witch's hat and vampire teeth and having a good dress up. In recent years, however, Halloween costumes have moved away from the classic bin-bag capes and bedroom-sheet ghosts of old – with revellers young and old opting for a […]