News
AQUARIUM AWASH WITH
RARE BABY RAYS
Deep Sea World, Scotland's national aquarium, is celebrating the arrival of dozens of rare baby rays.
So far no fewer than 24 baby thornback and undulate rays have hatched out at the North Queensferry wildlife attraction this week, with more expected to arrive over the coming days.
Both the thornback and the undulate rays are native to British waters. The thornback is officially classified as 'Near Threatened' in the IUCN Red List of Endangered Species while the undulate ray is classed as 'Endangered' which means it faces a very high risk of extinction in the near future.
Deep Sea World's Displays Supervisor Michael Morris said: "All the ray egg-cases were originally collected by hand by our dive team within the large Shark display earlier this year.
"They were then transferred to our quarantine area where they have been able to develop safely away from the attention of any potential predators.
"It's unusual to have quite so many eggs hatching out in such a relatively short time period but it will allow us to be able to provide our sister aquariums with captive-bred rays for the future," he added.
Thornbacks are the most common ray in British waters and can grow up to 1.2 metres in length.
The species gets its name from the coarse prickles which cover their upper body.
Despite being the UK's commonest type of ray, it is still considered to be 'Near Threatened' in the wild which means it may be considered threatened with extinction in the near future.
Also known as the painted ray, the undulate ray is one of the most distinctive rays to be found in UK water. This species is patterned with long, wavy, dark lines edged with white spots that run parallel to the wing margins.
In 2007 the fish was included in the UK Biodiversity Action Plan and in 2009 it received full protection from the European Council meaning that it cannot be retained or landed if accidentally caught by fishermen.
Deep Sea World currently contributes to a UK aquarium-based monitoring programme for undulate rays, and it is hoped these juvenile rays will provide additional individuals to boost the captive breeding programme in the years ahead.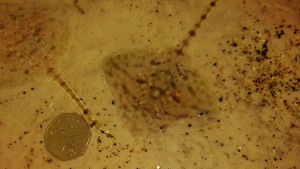 ---
AQUARIUM INVITES VISITORS
TO MEET 'TOXIC TEN'
Visitors to Deep Sea World, Scotland's national aquarium, are being invited to meet their deadliest denizens of the deep over the autumn break (October 8th-23rd).
'Toxic Ten' showcases a host of creepy critters ranging from terrifying tarantulas and scary scorpions to spooky stonefish and petrifying poison dart frogs.
Other feature creatures include stingrays, lionfish, pufferfish, foxfaced rabbit fish, snakes and millipedes.
There will be two toxic creature encounters taking place every day plus two craft-making workshops designed for both adults and kids.
"The aquarium is home to a wide selection of potentially deadly creatures from around the world," said Deep Sea World's Nancy Sidhu.
"Toxic Ten gives visitors the opportunity to discover more about these dangerous animals and their fascinating lives.
"The daily talks and encounter sessions also enable our staff to talk about the threats many of them face in the wild and what we can all do to help conserve wildlife both globally and locally," she added.
Located beneath the world-famous Forth Rail Bridge, Deep Sea World is Scotland's national aquarium.
With more than 40 naturally-themed displays home to over 2,000 creatures – ranging from seahorses and stingrays to seals and sharks – the award-winning aquarium provides an incredible voyage of discovery through the planet's rivers, lakes and oceans.
• 'Toxic Ten' is on daily from October 8th – 23rd at Deep Sea World, Battery Quarry, North Queensferry, Fife, KY11 1JR. For more information call 01383 411880 or visit www.deepseaworld.com and save up to 40% on tickets prices.
Issued by Deep Sea World. For more information please contact Nancy Sidhu on 01383 421141 or email [email protected] .

13 April, 2016
DEEP SEA WORLD ADDS WATER TO EARTH DAY Deep Sea World, Scotland's national aquarium, is joining groups and organisations around the world to celebrate Earth Day. Now in its 46th year, Earth Day is an annual event, celebrated on April 22nd, on which activities are held around the world to demonstrate support for environmental protection. It […]
13 April, 2016
A species of stickleback which became an unlikely star after appearing on the BBC 'Springwatch' programme has gone on display at Deep Sea World, Scotland's national aquarium. The fifteen-spined, or sea stickleback, is the largest member of the stickleback family and can reach lengths of up to 20cms. Native to UK waters they are most […]
1 March, 2016
A 400-strong shoal of seabass is settling in to its new home at Deep Sea World, Scotland's national aquarium. The giant shoal, which has a total biomass in excess of 200 kilograms, are all captive bred and were reared at a local marine fish hatchery on the west coast of Scotland. They […]
1 January, 2016
Bosses at Deep Sea World, Scotland's national aquarium, have thanked the engineering team which helped re-open the Forth Bridge ahead of schedule. News that the bridge would be closed for repairs until early in the New Year had caused major concern for the North Queensferry attraction, which traditionally welcomes thousands of visitors over the […]
1 January, 2016
Deep Sea World, Scotland's national aquarium, played host to television presenter Jennifer Reoch and the City Safari team as part of a new show which is broadcast this week. In the episode, which is due to be shown on STV Edinburgh and Glasgow on Friday, January 15th, Jennifer was given a tour of the […]