Here at Deep Sea World our staff are always looking out for fun shark inspired merchandise and our office is filled of shark pens, shark mugs and even a shark cookies. Our Facebook feed is always full of sponsored ads from different companies trying to convince us we need more shark merch. Let's be honest can you ever have too many shark toys? We say never and keep snapping up every random item we can find with a cute shark face on it. We thought we should share some of the best shark inspired gifts we have found which may be helpful if you have any shark fanatics in your life.
If you like the look of any of the shark gifts just click on the image and it will take you to the website we found them. Most of the items on the list have a few alternatives so look around and you may find something even better.
Shark Slippers
Winter is well and truly here with the frosty mornings and long dark nights there is nothing better than coming home at night and putting on some warm slippers. Oh wait there is .. putting on some warm shark slippers. Don't worry you toes will all be safe in these cosy slippers as your feet will be keeping well away from the sharks mouth. Although they may be recommended for indoor use the next time you visit Deep Sea World some of the staff may of decided that these bad boys are a new part of their uniform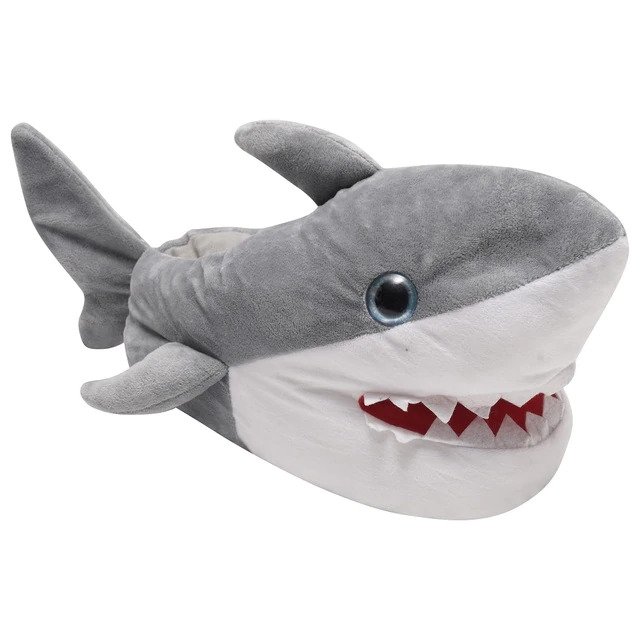 Shark Mug
Next up on the list you may be thinking "A shark mug that is so boring there are hundreds of those." This is a mug with a difference as not only will it hold your morning coffee but a collection of your favourite biscuits. The best part about this is the biscuits are held in the sharks mouth so if there are any biscuit thieves in your house they will be scared away by the sharp teeth of the shark.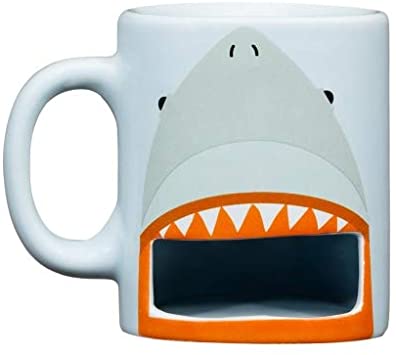 Shark Tea Infuser
Sharks have an undeserved bad reputation from changing a nice blue ocean into a pool of red blood. This shark on the other hand will turn your boring cup of boiling water into water delicious tea you wish to fill it with. There are a couple different versions of this but our favourite is the one below that clamps on the edge of your much with his toothless mouth.
Baby Shark Robe
Now once you have stopped singing Baby Shark over and over again prepare yourself to see one of the cutest clothing items any child could have. The baby shark robe will make bath time so much more fun. These robes will transform your child into the cutest baby shark around however they may become very annoying if after every bath the sing Baby shark, doo, doo, doo, doo, doo, doo
Baby shark, doo, doo, doo, doo, doo, doo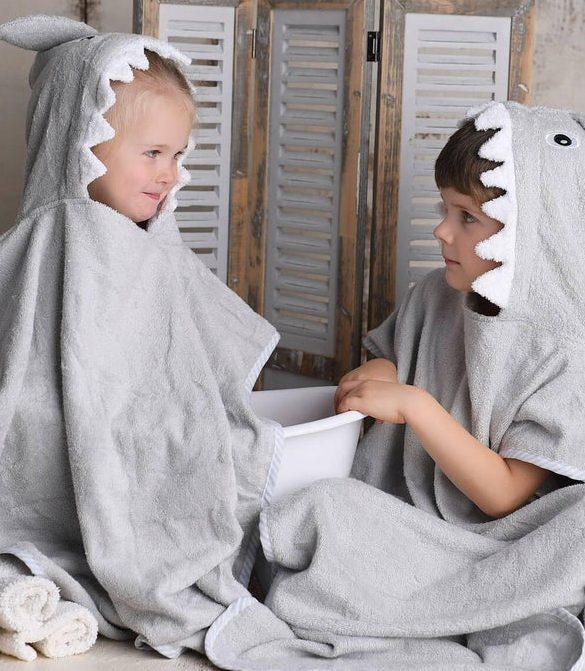 Diving with Sharks
What could be better for any shark lover than coming face to face with a real shark. At Deep Sea world there are a variety of experiences from our Junior Shark Encounter for ages 8-15 to our Adult Shark Encounter that gives first time divers the opportunity to dive to the bottom of our tank with Sand Tiger Sharks. This is gift they definitely won't forget. For more details on any of our diving experiences follow the link below.
Shark Face Mask
We tend to see very similiar shark products every year but 2020 is the first time we have seen so many different face masks. We would recommend choosing a friendly shark face to not scare any passers by and avoid buying any pet fish with it on as this could raise suspicions. We love these reuseable masks as single use masks have had a very harnful effect on wildlife especially those who live in the ocean.
Shark Laundry Basket
We can be pretty certain that everyone hates doing laundry. If only there was a way to make it disappear. Unfortunately there isn't and until that day why not hide all of your dirty clothes away in a shark laundry basket. Throwing your dirty pants and socks into the mouth of a shark is much more satisfying than leaving them all over the house and there is something funny about emptying all your clothes into the washing machine from the mouth of a shark.
Shark Colouring Book
Colouring in has made almost as big a comeback as Banana Bread this year but unlike most aspects of 2020 we want to bring this one into 2021. Test your creativity as you relieve some stress with colouring book that is fun for all ages. Most sharks tend to just consist of one colour but you don't need to conform to the rules of the ocean you can make your shark as colourful and as quirky as you please. If you want some free colouring activities to get you started check out our Free Activity Pack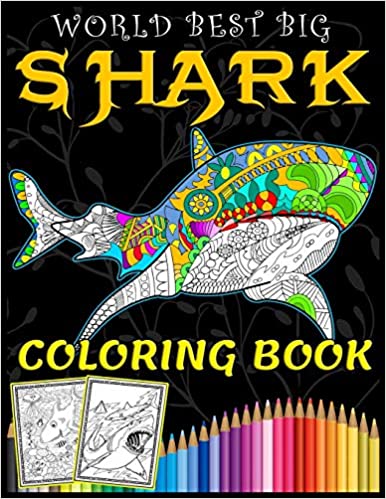 Shark Kite
This is one of our personal favourite finds and although flying kites may not be the most popular activity amongst children this would look awesome. Imagine walking along the beach on a windy day and as you look out to the sea a massive shark shaped kite is flying through the sky scaring off any seagull it encounters. If any of our visitors have one of these we would love to see it!
Shark Pet House
Let's not let humans have all the shark fun. There are loads of fur babbies that would love to live inside this luxury shark house. You can sleep safely knowing that your pet is safe and sound with their new shark best friend.
We hope you enjoyed scrolling through these cool and unusual shark products. This Christmas treat your loved one to a fin-tastic gift and dive into some great savings with our Shark Encounters.