Halloween may look a little different this year, but there's nothing stopping you breaking out the witch's hat and vampire teeth and having a good dress up. In recent years, however, Halloween costumes have moved away from the classic bin-bag capes and bedroom-sheet ghosts of old – with revellers young and old opting for a more refined getup on All Hallows' Eve.
Given the enduring popularity of Disney, it's no surprise that the legendary entertainment brand now accounts for thousands of Halloween costume ideas every year. From Maleficent to Spider-Man, Buzz Lightyear to Black Panther, Disney's huge collection of iconic big-screen characters provides limitless inspiration for a not-so-spooky Halloween celebration.
The question is, which Disney characters will prove the most popular Halloween costumes in 2020? And out of the brand's four major franchises – including Disney Animation, Star Wars, Marvel and Pixar – which heroes and villains are most likely to be replicated on 31 October?
To find out, we've gathered Google search data on the most popular Disney Halloween costumes, broken down by franchise, as well as the year-on-year change for the past four years. Take a look at what we discovered below.
Top 10 Most Popular Disney Halloween Costumes in 2020
Trick-or-treating may be off the cards this year, but dressing up for a stay-at-home Halloween bash is still very much encouraged. If you're planning a Disney-themed outfit this Halloween, here we look at the top 10 most popular costume ideas for 2020.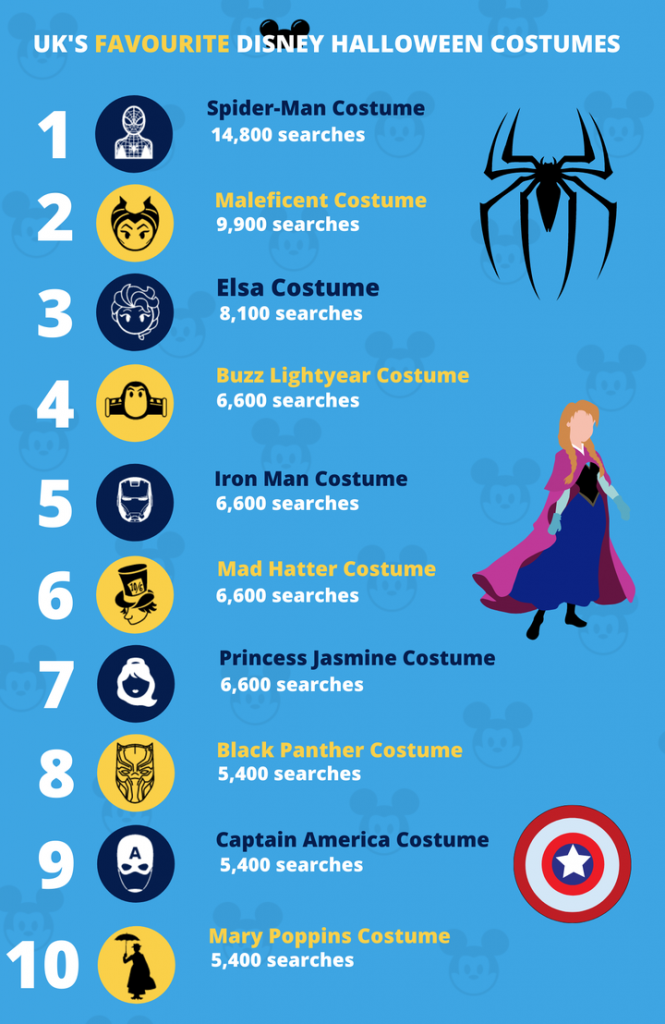 Given the success of recent Spider-Man films, it's no surprise Spidey stole the top spot as the most popular Disney costume of 2020. Because what youngster (or not-so-youngster) wouldn't want to dress up as one of the big screen's best-loved superheroes?
And, while we're on the topic of heroes and heroines, the top 10 is dominated with such characters – from the astronomically-popular Elsa from Frozen to Iron Man, Buzz Lightyear and Captain America. Indeed, save for Maleficent, the only villain on the shortlist, the top ten is full of Disney heroes, heroines and good guys – suggesting that Halloween costumes are moving away from the scary ghosts and ghouls of old.
How Have Disney Halloween Costumes Changed Over the Years?
Now that we've looked at the most popular Disney Halloween costumes for 2020, it's time to look back at how our tastes have changed in recent years. With new films and franchises comes new dress-up possibilities, and it's clear that preferences have changed a lot over the past half a decade.
From the chart, there are some interesting changes to note, and these largely fall in line with when new Disney films were released. For example, in 2017, Stormtrooper costumes proved one of the most popular Halloween dress-up ideas, after the huge success of Last Jedi and The Force Awakens. The same can be said of interest in Elsa costumes in 2020, after the release of Frozen II thrust the character back into the limelight.
That's not to say film releases are the only thing which affects interest in Disney Halloween costumes. In 2018, Moana knocked Spider-Man off the top spot, despite her last franchise film being released in 2016. We can't account for this spike in interest, but it has to be said that Moana is perhaps one of the least spooky Halloween costumes on the shortlist.
Top 10 Disney Animation Halloween Costumes
Exploring deeper into Disney's most lucrative franchises, here we're taking a look at the top 10 costumes from its beloved Disney Animation movies, which include classics like Snow White and Aladdin.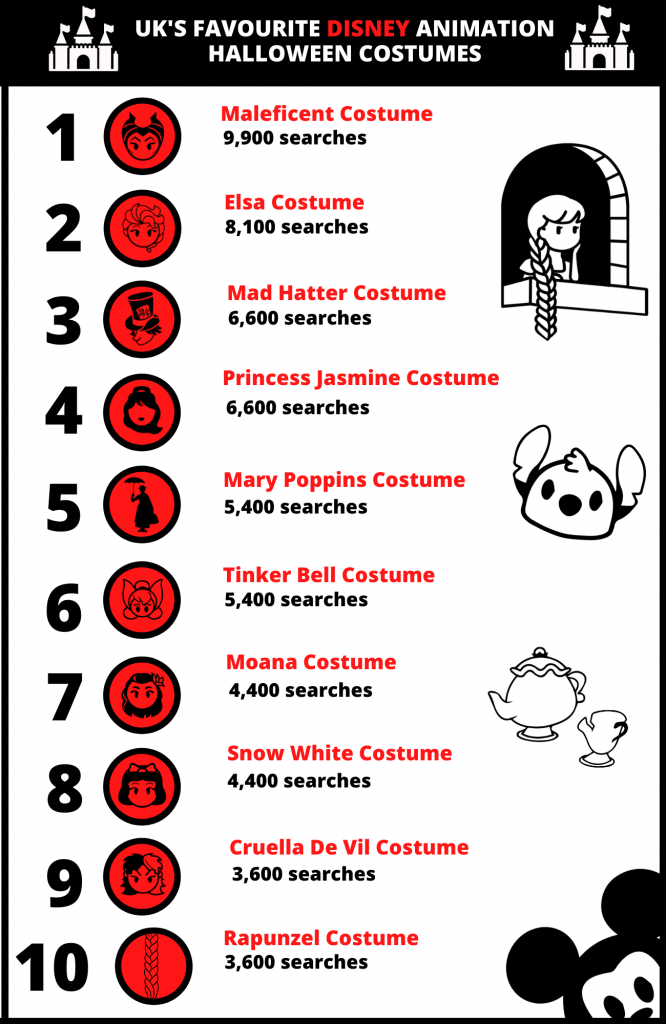 Maleficent proved the most popular Disney Animation Costume, and it has to be said that the frightening villain makes a great fit for Halloween. Good luck to every parent tasked with recreating Maleficent's iconic horned headpiece, though!
Elsewhere, new Disney princesses like Elsa and Moana outstripped classics like Snow White, Cinderella and Rapunzel – suggesting that Disney's modern heroines have been a big hit with younger viewers.
Top 10 Star Wars Halloween Costumes
Star Wars costumes have always been a popular choice for Halloween, even before the franchise was bought out by Disney back in 2012. Here's a look at 10 of the most popular Halloween costumes from the epic space saga.
Star Wars bucks the trend compared to other Disney film franchises, with the majority of its most popular costumes being villains. The Stormtrooper costume is, without doubt, the most popular Halloween getup, while Darth Vader and Kylo Ren came above heroes like Luke Skywalker and Chewbacca.
Top 10 Marvel Halloween Costumes
The Marvel Universe accounts for some of the most popular Halloween costumes of the past decade, with its classic superheroes inspiring thousands of makeshift get-ups on 31 October. Here's a look at the top 10 most popular costumes from the franchise.
As you'd expect, Spider-Man is the frontrunner in the Marvel Universe, way ahead of counterparts like Iron Man and Captain America. The release of Black Panther in 2018 saw a huge leap in interest for the title character's costume, with T'Challa leapfrogging Marvel rivals like Thor, Thanos and Captain America to reach the number three spot.
Top 10 Pixar Halloween Costumes
Pixar and its hopping lamp have been responsible for some of Disney's most recognisable characters over the years, so it's no surprise its franchises still account for hundreds of great Halloween costumes. Let's take a look at the top 10 most popular outfits.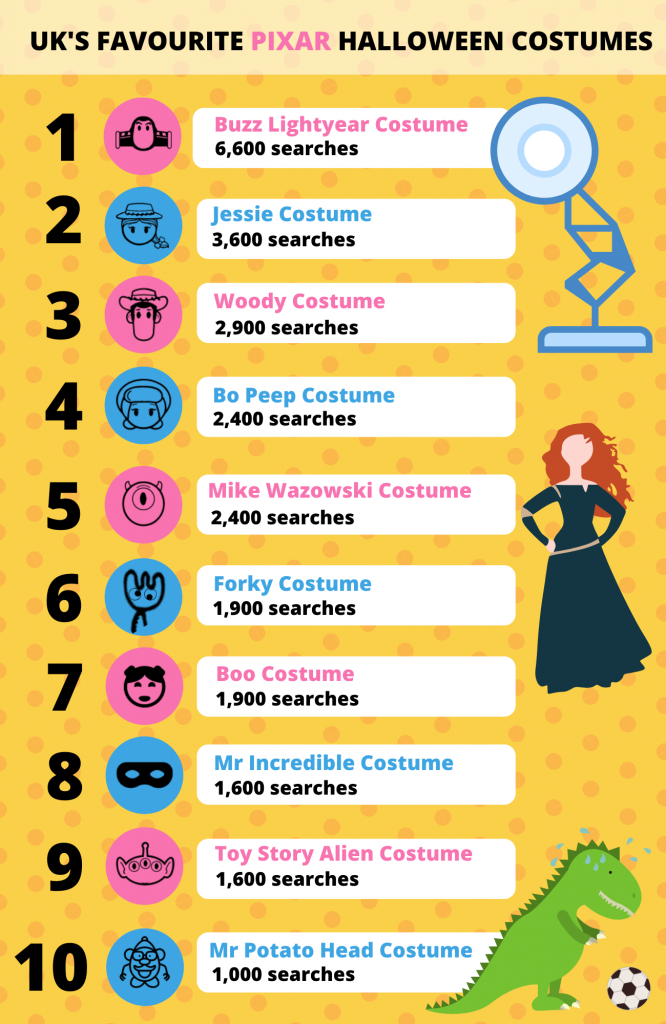 Predictably, Toy Story, one of Disney's highest-grossing movie franchises, dominates the top 10 costumes list, with even lesser-known characters like Bo Peep coming in ahead of heroes like Mr Incredible and Mike Wazowski, from Monsters Inc. Buzz Lightyear was, of course, the winner in this category, followed closely by love interest, Jessie, and partner in crime, Woody.
Whatever you have planned this Halloween, we hope this look at popular Disney costumes helps inspire you to dress up and have fun. For a day out to remember this half term, why not visit Deep Sea World? For information and tickets, visit the homepage today.