Adult Shark Encounter £240
---
Ready to take the plunge? Dive into this PADI-recognised Discover SCUBA session and swim in awe as you come face-to-fin with a huge selection of sharks, stingrays, and shoals of beautiful fish.
You'll receive a full briefing and instructions from our specialist diving team, so you'll be prepared with all the aquatic knowledge you need before entering the water. Instructors will accompany you at all times and join you in exploring our fascinating underwater safari displays, while assisting you in swimming alongside 10ft sand tiger sharks – even experienced divers rarely get this close to sharks!
What you need to know:
You must be over 16 years of age and meet the medical requirements found on the medical requirement form
Please view the terms and conditions
This offer cannot be used in conjunction with any other dive offer
Shark encounters run every weekend at two different time slots: 1:00pm, and 3:00pm (these may be subject to change)
You must pre-book your dive by calling 01383 411880
The encounter lasts approximately two hours – this includes training, briefing, and your dive
Free entry for two accompanying spectators – you can have additional spectators at a reduced rate
Spectators can watch your dive from the viewing tunnel
All equipment is provided (please check with our team regarding maximum height and weight restrictions)
No cameras are allowed in the tank
Group session can be arranged upon request.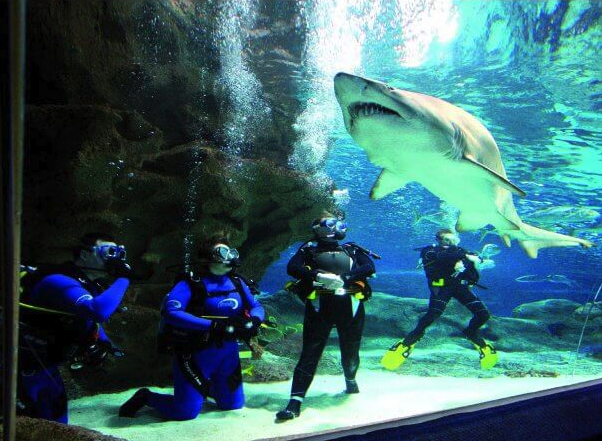 Dive Night £130 (Only available for qualified divers)
If you're already a qualified diver, then Deep Sea World is the perfect place to discover some rare creatures of the sea. Get up close and personal with 10ft sand tiger sharks with our magnificent evening diving experiences.
What you need to know:
Only open to divers with a minimum qualification of PADI Open Water or equivalent
Divers must have logged a dive within the six months prior to their booked dive date
Proof of current qualification level and log book will be required
Children aged 10-12 years old must dive with a parent or guardian
Divers under 16 must be accompanied by a parent or guardian on the day
All divers have to meet the medical requirements found on the medical requirements form and read the terms and conditions
A PADI liability release must be complete
Shark dive nights run once a month on a Friday evening. Please call us for future dates on 01383 411880
Sessions start at 6pm and last approximately 30-40 minutes
Cameras can be taken into the tank only if pre-arranged with our dive team
This dive counts as a logged dive, so bring your log book and we will stamp it for you
We can cater for up to eight divers, or up to 16 if booked as a group
Equipment:
You are welcome to use your own equipment, however, your equipment must be rinsed before you enter the water and must be checked by our instructors prior to diving. We provide cylinders and weights – rebreathers are NOT permitted in the shark tank.
Alternatively, you can hire full equipment for a fee of £30 per person. Please be aware that our hire equipment is limited and is available on a first come, first served basis.
If purchased as a voucher, the voucher is valid for up to twelve months from the date of purchase.
Depending on the number of divers on the night, there may be a slight wait for your dive.