Visiting Deep Sea World gives your little ones a hands-on experience with the weird and wonderful creatures of our oceans. Did we mention it's jam-packed with education, too? For children of all ages, it's time to ride the wave of fun and experience the fascinating wonders that the world's waters offer. Find out more about our top 10 must-sees on your visit.
1. Befriend the Seals
Ever wanted to meet a seal? Now's your chance. Bring your little ones along and watch their faces beam from side-to-side as they watch our seals dive in and out of the water. Common seals are found in sheltered waters, but you get to have a front-row seat to see how they interact with one another and yourselves. If you time it right, you can also watch our team of aquarists feeding and playing with the seals!
2. Go on an Amazon Adventure
Let us transport you to the Amazon rainforest, where we bring you tropical sounds, creatures, and climates. Test your toddlers on which sounds they can hear. Whether they hear the buzzing from the insects, those busy-body monkeys chattering away, or the hop of frogs jumping overhead, we bet they won't be wanting to leave the Amazon any time soon.
Take your little one on a journey through South America and learn all about the 2,500 fish that live in the Amazon River. We might even let you in on a few secrets about one of the most dangerous snakes in the world – the anaconda…
3. Spot the Ocean Giants: Sharks
Come face-to-fin with our underwater giants, and watch them glide through the water with precision and so-fish-tication. Your younger ones can sign up to take part in a junior shark dive, after which they can let you know just how many rows of teeth these prehistoric creatures have.
If you or the little ones aren't ready to take the plunge, you can just marvel at these wonderful creatures as they swim around you. You'll also learn more about how their fearsome reputation is all a myth, and how these wonderful creatures are important for ocean life. Keep your eyes peeled to meet our Sand Tiger Shark (our largest one growing up to 10ft!). Did you know: sharks were actually called 'sea dogs' at one time?!
4. Journey Through an Underwater Safari
You've taken the kids to the Amazon, and now it's time to take them on a safari trip. Venture into our Underwater Safari, stretching 112m (that's the length of a football pitch). Holding over a million gallons of water, just imagine how many various species of underwater creatures you and the little ones will get to see. There are so many, we can't even begin to list them!
It's the largest temperate exhibit in the UK, and your excitement levels will almost be as big as the sand tiger sharks on display. Look inquisitively through the curved glass and get closer to the wonders of our oceans.
5. Marvel at Life in Malawi
Your travelling doesn't stop there, because you'll want to take the little ones to the ninth-largest lake in the world too: Lake Malawi. The African lake is 700m deep and home to 600 different species of cichlid, and you have the chance to meet some of these creatures in our Lake Malawi exhibit. Can't wait to get here? Here's a sneak-peek of what to expect from the great lake.
6. Just Keep Hopping in the Amphibian Zone
Next stop: the amphibian zone. Time to meet our jumping residents and see how many different colours you can count on their skin. From vibrant blue, to red, to yellow, it's like watching a jumping rainbow hop around. Whether you feel brave enough to get friendly with a golden poison frog, or fancy a hop around with the mudskippers, be prepared to get dazzled by the red-eye frogs. We're open all-year-round, both term-time and during the holidays, so you won't ever have to miss a hop!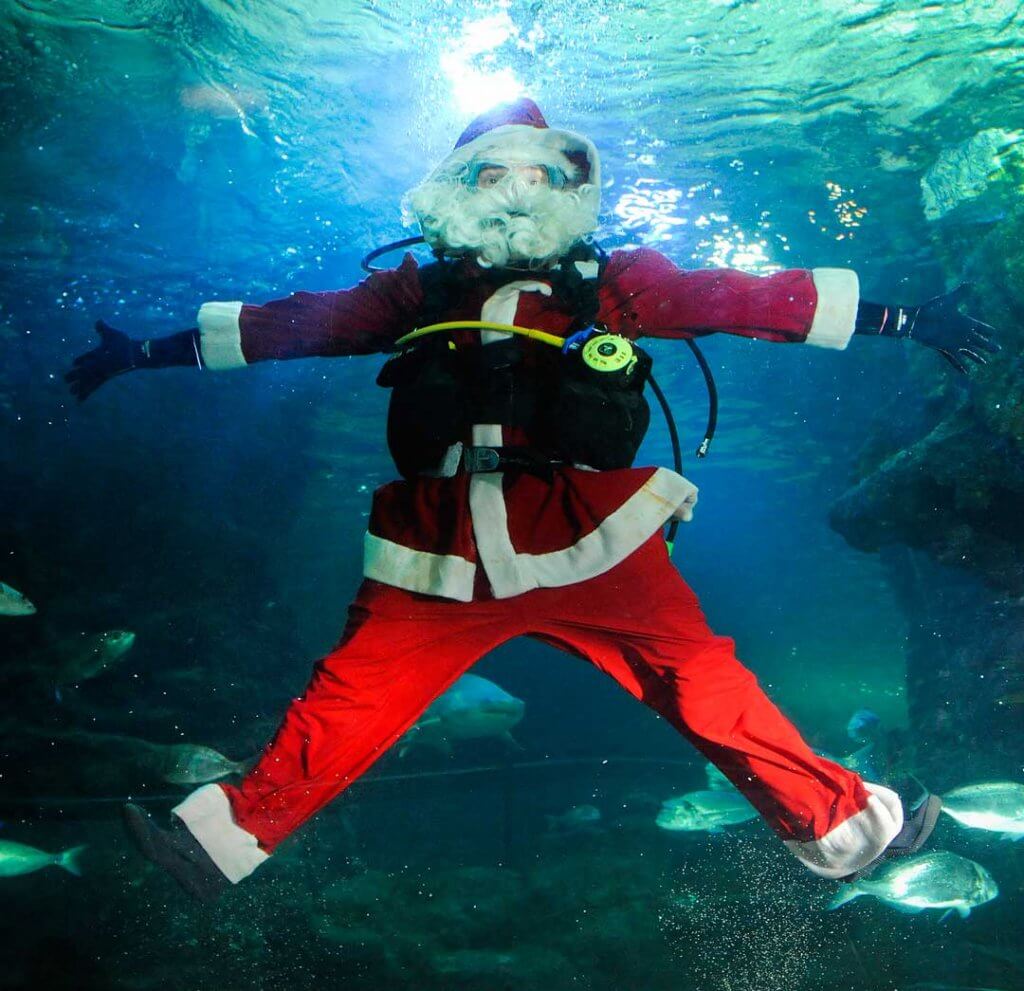 7. Take a Wander Along British Shores
Get up-close and personal with the creatures living in the waters of Britain's coastlines. Our expert aquarist will bring you and your little ones close to the rocky shores around us, where you'll get to meet crabs, small sharks, starfish, and all the other wonderful creatures who are making our shores magnificently magical.
8. Swim Back in Time to Mount Krakatoa
Explore Mount Krakatoa and discover exotic creatures living among the ruins. Journey through the remains, meeting batfish, bannerfish, and the yellow saffin tang – just to name a few. You'll be able to show your little ones the most beautiful view to be seen in our oceans: a mass of metallic blue as the blue damsel fish elegantly swims past you.
9. Listen and Learn in the Daily Talks
Don't get too swept away by the waves of fascinating fun you're having. Make sure you and the family take a look at our schedule of daily feeds and talks. They're held every day, every 30 minutes – you'll never miss out! What's more, all the talks and feeds are included in your ticket price!
10. Pick Up a Treat at the Gift Store
After seeing thousands of fascinating creatures and taking in hundreds of interesting facts, your little ones are sure to be inspired from their trip. We wouldn't be surprised if they leave wanting to get their very own pet shark. Guess what? You can even get one of those, too (a cuddly toy version, of course!). With an annual membership, you will receive an added 10% off selected items from the gift shop.
---
Education meets fun and fascination here at Deep Sea World. There's no doubt that the kids will be tired from all the exciting travelling from South America, to Africa, and back to British shores again. Intriguing for all ages, our mysterious underwater creatures will definitely entertain the whole family.
So, what are you waiting for? Grab your tickets and get exploring. Oh, under-3s go free, by the way! Let us know all about your ocean adventures on Facebook or on Twitter @DeepSeaWorld.