News

Summer of Sharks is HERE!
Deep Sea World is inviting visitors to dive into the secret world of sharks this summer.
Running until August 31st, 'Summer of Sharks' provides a fascinating insight into one of the world's most feared and misunderstood animals.
From close encounters with three-metre-long sand tiger sharks, to watching baby sharks wriggling inside their egg-cases the North Queensferry attraction is shining the spotlight on all things sharky.
Special daily talks, dives and feeding demonstrations will take visitors inside the minds of the oceans' greatest predators.
Find out all about the giant prehistoric megalodon shark, which was more than twice the size of a great white, and uncover shark fossils in our indoor dino-dig.
Deep Sea World is home to one of the UK's biggest collections of sharks and rays and runs pioneering captive breeding programmes for a variety of species which are under increasing threat in the wild.
This summer the aquarium is also hosting the SPAN – The Tale of Three Bridges exhibition for the first time in Scotland.
Created especially for Deep Sea World by the Fife Cultural Trust it's a fascinating, fun day out for the whole family.
Discover all about the brilliant and brave pioneers who created three iconic Forth crossings, build your own bridge, play giant snakes and ladders and don't miss the electronic model railway bridge! Free entry as part of your Deep Sea World visit.
Located beneath the world-famous Forth Rail Bridge, Deep Sea World is Scotland's national aquarium.
With more than 40 naturally-themed displays home to over 2,000 creatures – ranging from seahorses and stingrays to seals and sharks – the award-winning aquarium provides an incredible voyage of discovery through the planet's rivers, lakes and oceans.
The incredible 4.5 million litre Underwater Safari is home to one of Europe's largest collections of sharks – including three-metre-long sand tiger sharks – as well as hundreds of other fascinating marine life like rays, wrasse and mackerel.
Don't miss the outdoor seal sanctuary with its resident family of common seals.
Other displays feature everything from mudskippers and piranhas to lionfish and moray eels. Be sure to catch the daily dive and feeding shows and watch the divers as they feed the sharks in the underwater tunnel.

SPAN – The Tale of Three Bridges
BRIDGES EXHIBITION OPENS AT DEEP SEA WORLD
A brand new, purpose-built exhibition celebrating the past, present and future of the Forth bridges has opened at Deep Sea World, Scotland's national aquarium.
'SPAN – A Tale of Three Bridges' was specially created by Fife Cultural Trust and brings the turbulent and triumphant history of all three bridges vividly to life for the very first time.
The new exhibition was officially opened on Friday as part of a VIP preview event which was attended by representatives from Fife Council, the Cultural Trust, local tourism bodies and staff from the aquarium along with their families.
Fife resident Lorraine Lawrie, who celebrated her 11th birthday on the day the Forth Road Bridge was opened and was among the first to cross it, was invited to cut the ribbon on the exhibition.
Deep Sea World's Nancy Sidhu said: "The exhibition looks amazing and we're delighted with the positive feedback we have already been getting from visitors.
"The fact there is something for people of all ages to engage with at a variety of different levels makes it perfect for families.
"Many of the images have never been displayed in public before and it really does give a vivid insight in to the bridge builders; past and present," she added.
With its spectacular location alongside the world-famous Forth Rail Bridge, the North Queensferry aquarium provides the perfect location to showcase the incredible feats of engineering which span more than a century.
The iconic rail bridge was officially designated a World Heritage Site by UNESCO at a meeting in Germany last year and now enjoys the same status as Stonehenge, the Taj Mahal and the Great Wall of China.
Utilising a mix of rarely-seen historic photographs and images, alongside a fantastic new model of the Rail Bridge, 'SPAN – A Tale of Three Bridges' has been specifically designed to fit within the aquarium's purpose-built exhibition space.
Among the hands-on features younger visitors can get to grips with are bridge-building toys, dressing up boxes and a giant jigsaw puzzle.
• 'SPAN – A Tale of Three Bridges' is at Deep Sea World until Sunday, August 28th 2016. It is free to visitors to the aquarium. For more information call 01383 411880 or visit www.deepseaworld.com .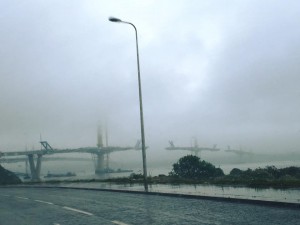 13 April, 2016
DEEP SEA WORLD ADDS WATER TO EARTH DAY Deep Sea World, Scotland's national aquarium, is joining groups and organisations around the world to celebrate Earth Day. Now in its 46th year, Earth Day is an annual event, celebrated on April 22nd, on which activities are held around the world to demonstrate support for environmental protection. It […]
13 April, 2016
A species of stickleback which became an unlikely star after appearing on the BBC 'Springwatch' programme has gone on display at Deep Sea World, Scotland's national aquarium. The fifteen-spined, or sea stickleback, is the largest member of the stickleback family and can reach lengths of up to 20cms. Native to UK waters they are most […]
1 March, 2016
A 400-strong shoal of seabass is settling in to its new home at Deep Sea World, Scotland's national aquarium. The giant shoal, which has a total biomass in excess of 200 kilograms, are all captive bred and were reared at a local marine fish hatchery on the west coast of Scotland. They […]
1 January, 2016
Bosses at Deep Sea World, Scotland's national aquarium, have thanked the engineering team which helped re-open the Forth Bridge ahead of schedule. News that the bridge would be closed for repairs until early in the New Year had caused major concern for the North Queensferry attraction, which traditionally welcomes thousands of visitors over the […]
1 January, 2016
Deep Sea World, Scotland's national aquarium, played host to television presenter Jennifer Reoch and the City Safari team as part of a new show which is broadcast this week. In the episode, which is due to be shown on STV Edinburgh and Glasgow on Friday, January 15th, Jennifer was given a tour of the […]