It's almost the holidays once again, and with the kids at home for a week, it can be tricky finding ways to keep them entertained. October half-term can also be one of the wettest holidays of the year, meaning sending them off to the local park with a football in hand isn't always an option. 
Luckily for you, here at Deep Sea World, we have a wet-weather alternative where you can still cause a splash and have fun with the whole family. Here's everything going on beneath the waves this half term… we can't wait for you to come and join us!
 
Explore Aquasketch, Our Giant Virtual Aquarium
https://www.facebook.com/deepseaworldfife/videos/1311992852315812/
Deep Sea World is home to the UK's first giant virtual aquarium. Sounds pretty cool right? So, what is a virtual aquarium? Well, we're glad you asked. 
Deep Sea World's virtual aquarium is like being transported underwater into the depths of the ocean in a matter of seconds. You can chase schools of tropical fish through the waves and across the 7-metre virtual tank, or poke your nose into the coral reefs and discover what sea creatures are hiding right in front of you. 
But do you want to know the best part? Oh yes, it gets even better. On your visit to the virtual tank, you can draw and create your own fish, whether it's hot pink with super shiny scales or bright blue and very very small. And just like that, your very own fin-tastic friend will magically come to life in the virtual tank. Watch it swim amongst the sea life and explore the underwater world. 
Can't wait for some Aquasketch fun? We'd love to see your fishy creations. Make sure you follow us on Facebook and Instagram and get tagging us in your drawings! 
Say Hello To Our Deep Sea Divers

Our Deep Sea Divers are spending October half term with their wetsuits zipped up and their scuba masks firmly on. 
Every Wednesday, Saturday, and Sunday, our explorers will be diving into Deep Sea World's underwater tunnel and saying hello from the not so dry side. You'll have the chance to see some of the most breathtaking sea creatures uncovered, from huge sharks and happy rays to tropical coloured fish, as our divers swim around the tank. 
The dive team will also be sharing their story of what it takes to become a Deep Sea Explorer, from the specialist equipment that helps us breathe underwater to the skills you need to be a super diver. With daily dive talks throughout the October break, you'll be able to catch one of these fascinating talks whatever day you choose to visit. 
Watch Our Hungry Creatures Get Fed At Dinner Time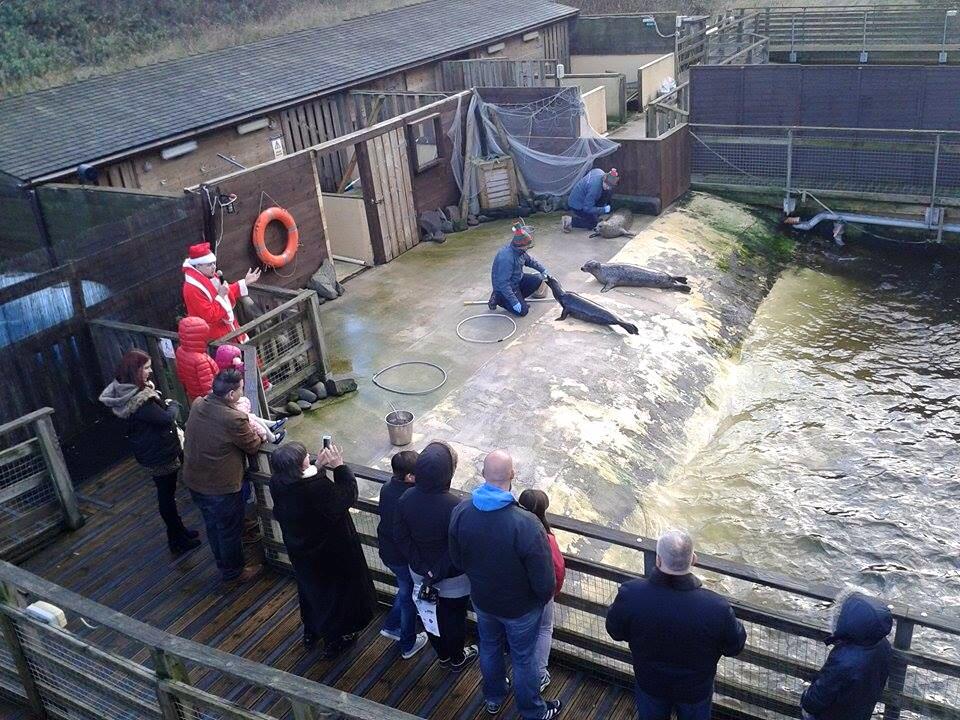 What's sweeter than a happy seal munching on some delicious lunch, or a ray filling up on a good old snack? Not much, we'd say! Luckily for you, you can see all of this up close when you join us for feeding time at the aquarium.
With lots of feeds to choose from you're spoilt for choice. Watch our aquarists exercise the seals and give them some tasty treats as they roll, swim and jump around the pool, or stroll by the shark tank to see our vast array of sharks fill their bellies. There's a feeding time for everyone. 
Sound good? Check our feed timetable before you visit here.
Can't wait for some underwater fun? Visit Deep Sea World this half term for a family experience you won't forget!