BACK TO BARE BONES
Brace yourselves this summer because you're about to see creatures (aquatic and otherwise) like you've never seen them before! A crazy-cool new exhibition opens you up to the fascinating world of creature skeletons and let's you dive into the ins and outs of how animals have evolved.
You have until 13th August to come and witness our Bare Bones exhibition this summer. Celebrate and gaze in wonder at our interactive exhibition of extraordinary exploration, covering a variety of creatures and their anatomies.
What you can expect
With over a dozen different stunning displays, you'll be invited to delve even deeper into the lives of species from land, sea, and air. It's an exhibition like no other! Discover detailed evolutions and animal adaptations, and find out exactly how unique characteristics allow for animals to survive in certain environments.
So, what BARE BONES will you actually be able to see? From the likes of a heron holding a fish with its feet to a skeleton of a ray, right down to a giant monitor lizard, there's plenty! You'll even be able to get a little handsy too – touch a series of skulls and get a closer look at their teeth to try and work out what they like to have for lunch.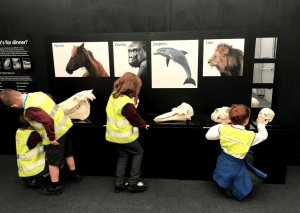 If that's not enough to excite the bones off of you, try your hand at our race-against-time challenge to pair the image of the live animal with its skeleton. Reckon you have what it takes to win? Come show us, then…
Forget funny bones, it's all about discovery bones! Grab your tickets now, because this is definitely an exhibition you won't want to miss. Get your exploration on and call yourself Sherlock Bones himself!