Upcoming Events
Upcoming Events
Upcoming Events
Welcome to the fascinating underwater world of our beautiful oceans. Enjoy your journey through the deep blue sea and encounter creature after wonderful creature. But, guess what? That's not all. Here at Deep Sea World we always have something fishy going on.
There's something going on everyday – whether it's feeding the seals or a creepy-crawly encounter – take a look at our daily talks and feeds schedule to help plan your visit. There's so much more than just the daily adventures of our oceans, though. Here's what's coming up with our enchanting creatures:
Scottish Seas (Saturday 6th  April – Friday 7th June)
Our Explorers are finding out about the amazing wildlife on our local shores.  We will be getting hands on with Scottish Rockpools and learning how small changes in our lifestyle can make a huge impact on saving the lives of our sea creatures.
Join us for our launch on the 6th of April and be welcomed by Dunfermline Pipe Band!  Charlie the Clownfish will be there for a Scottish Deep Sea World Welcome!  Book online for the best savings!
Fossil Hunters (Every Weekend and Bank Holiday in May)
Whilst travelling around the Scottish Seas our explorers have met up with the Fossil Hunters to discover the treasures of the forgotten world!  Come along every weekend and bank holiday to see what you can discover!
From dinosaur fossils to sharks teeth you can take home what you find and keep it forever!
Deep Sea Explorers
Throughout 2019, our Deep Sea Explorers invite you to join them on their travels around the world! Join Lossie the Turtle, Dee the Starfish, Clyde the Crab and Kelvin the Shark, as they whizz around the globe exploring different habitats and the creatures within.
Fresh for this year, we've designed our very own Deep Sea World Passport, and we've got a copy for all of our junior explorers, don't forget to grab one when you next visit, we've got challenges for you to complete throughout the year so make sure you keep it safe and bring it along to each visit!
For each of the destinations below, you'll have the opportunity to collect a number of stamps throughout, the more stamps you collect, the better chance of winning some of our seal-iously good prizes!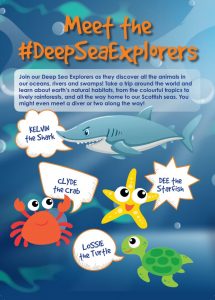 More Deep Sea Explorer Events
Jungles & Rivers (Saturday 8th June – Friday 6th September)
Deep Sea Divers (Saturday 7th September – Friday 25th October) 
The Fun Doesn't Stop There!
Keep your eyes peeled for more fin-tastic fun coming up. The ocean is full of wonders and we just can't wait to discover them with you! In the meantime, follow us on Facebook and Twitter to keep informed of any exciting new creature news and all the latest Deep Sea World updates.