Events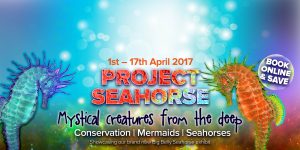 Easter Holidays – 1st April – 17th April 2017
Deep Sea World is welcoming 60 Big Belly Seahorses this Easter holiday with our Project Seahorse!
Mystical creatures from the deep including seahorses, mermaids and our many fishy friends.
Our Easter Holiday event will involve showcasing our new Big Belly Seahorse exhibit, Mermaid appearances, Mermaid story telling, Conservation talks, Charity face painting with all donations going to Project Seahorse.
Please book your tickets online to save up to 25% off on your admission to our great event.
We will be announcing our Mermaid Appearance Schedule week commencing 13th March 2017.
Bonus: We will also have a Golden Egg Easter egg hunt for the young ones!