St Margaret's RC Primary School reached out to us for some expert advice on caring for their goldfish. In response, one of our resident zoologists, Kate Cooper, paid a visit to the South Queensferry school to show the pupils a few tips and tricks on caring for their classroom pet and on the upkeep of their tank. During her visit, the kids learned that…
Aquariums Spark Curiosity
"Aquariums are a wonderful way to study the amazing richness and diversity of life to be found in the world's rivers and oceans while learning more about the environment," Kate explained to the pupils.
To elaborate on Kate's point, classroom pets also make the perfect teaching assistants. With a little help from a goldfish, you can encourage your pupils to put their thinking hats on by asking them questions like…
"What words would we use to describe a goldfish?"
"How do fish breath?"
"What part of the world do goldfish come from?"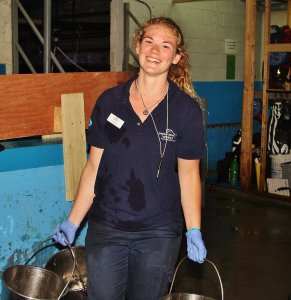 Education Is Key
Fish are known to have a tranquil, calming effect on kids. They're beautiful and soothing to watch, and they're fun to have around. As much as it's fun and educational to keep fish in your classroom – just like other animals – pet fish depend upon us for their wellbeing.
On the day, Kate reminded the pupils that there's a serious time commitment on their part: "Home aquariums provide hours of fun and enjoyment, but the more you understand the creatures you are keeping, their needs, and their habits, the more you will be able to enjoy them."
Decorations Make Happy Fish
A well-decorated tank is not only pleasant to look at, but it'll also give the fish an interactive habitat. And happy fish will be more alert, more active, and more colourful, and will live longer. That's why, for the visit, Kate brought along some rocks, woodwork, and artificial plants for the pupils to decorate the tank with – to help the goldfish feel more at home.
To keep the goldfish entertained with a varied habitat, Kate also left behind a few extra decorative bits and pieces that the kids could use to switch up the tank design every so often.
Regular Upkeep Is Necessary
Before wrapping up the visit, Kate went over the importance of routine aquarium maintenance, including testing the water, doing regular water-changes, and checking the filter placement – carrying out these simple tasks weekly can keep expensive and time-consuming problems at bay. The better care you provide for your tank, the healthier your fish will be, the nicer your tank will look, and the less maintenance your tank will need in the long run.
Learn More at Deep Sea World
With more than 40 naturally-themed displays, Deep Sea World is home to thousands of deep sea creatures – ranging from seals and seahorses, to stingrays and sand tiger sharks – providing a voyage of discovery through the planet's rivers, lakes, and oceans.
You can get in touch with us on social media; just shoot us a message on Facebook or send a tweet to @DeepSeaWorld. Alternatively, you can call our team on 01383 411 880 to arrange a school trip – where underwater adventure awaits!